The 360Heros team is ready for a busy weekend in Los Angeles and Park City for the 2016 VRLA Winter Expo and Sundance Film Festival. With these two key events back-to-back on the 23rd and 24th of January respectively, VR fans are in for a fun weekend filled with demos and new technology.
VRLA
We're proud to once again sponsor VRLA, one of the premier events in the world of virtual reality bringing together some of the industry's best content creators and innovative companies to celebrate the growth of VR. Taking place in the Los Angeles Convention Center from 12:00 PM – 7:00PM, VRLA will feature over 2,000 attendees and exhibitions from more 40 sponsors and participating companies.
Fresh from our adventure in Las Vegas at CES, we're excited to share the latest in 360 video filming technology with VRLA attendees, especially our new Bullet360 control board system for electronically syncing cameras in our rigs.
The New Bullet360
Our Bullet360 control board system enables users to simultaneously operate multiple GoPro™ cameras by plugging them into an internal wired interface. The system is triggered via a simple remote and features controls for turning cameras on and off and firing the camera shutter buttons simultaneously for both video and photos.
The system debuted with 360Heros' recent release of the 360Abyss v4, an electronic underwater dive housing for filming spherical video. The 360Abyss features the same Bullet360 control board system and is triggered magnetically for full multi-camera control underwater.
End-to-End Workflow Session
360Heros CEO and founder Michael Kintner will have a session at VRLA on the technology and processes for capturing and creating Virtual Reality 360 degree videos in End-to-End VR 360 Video Workflow with 360Heros 2:30-3:30 p.m. in Theater 1.
Learn more about VRLA by watching this short video from the summer 2015 show:

Sundance Film Festival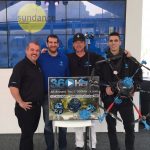 Directly following the VRLA Winter Expo, the 360Heros team will be hitting the trail for Park City to participate in the 2016 Sundance Film Festival. Our schedule on Sunday includes an exhibition at the VR Fest lounge in Park City from 12:00PM – 7:00PM as well as sponsorship of the UploadVR party from 8:00PM – 11:00PM.
Fresh off of a successful series of events in Las Vegas during CES, VR Fest in Park City will follow suite and feature a collection of key companies and industry partners in the VR space. Attendees will enjoy demos, product displays and the opportunity to meet fellow VR enthusiasts.  To attend and learn more about the VR events taking place in Park City visit the VR Fest website.
Are you heading to LA or Park City this weekend? Let us know in the comments if you plan on stopping to see us!