In the VR and 360º film communities 4K 360 video is a huge buzzword. With 4K display technology catching up to camera tech, it's no secret that everyone wants to produce 4K content for their next project and present it with the wildly popular Oculus Rift and Samsung Gear VR HMDs.
While demand for 4K content is high, information about the technology needed to create it, production work flows and display options is scarce. Below is an explanation of the specs behind 4K 360 video content and suggested solutions for creating and displaying it yourself.
What is 4K 360 Video compared to 4K FOV?
To put 4K into perspective with what we typically view on television, standard resolutions for HD broadcast are either 1280 x 720 pixels or 1920 x 1080 pixels. A 4K resolution image on the other hand has a resolution of 4096 × 2048 pixels, or more than double the horizontal pixel count. However, when viewing 4K 360 Video (4096×2048) you are only seeing 1.3K if your FOV is 120 Degrees. Viewing content in the Samsung Gear VR is a similar scenario, as 4K 360 video displayed in the Gear VR is experienced with a 96 degree FOV, meaning a user's FOV has a 1.2K pixel count.
Things get even more interesting when you want to produce 4K FOV 360 video (AKA everywhere you look is truly 4K), as the the equirectangular image (prior to being morphed into a sphere) needs to be 12,288 x 6,144 pixels in order to achieve FOV 4K 360 video. Videos produced with those specs offer a 4K resolution for every 120 degree FOV. This creates a drastic difference in image quality in comparison to 2K content, which offers a 120 degree field of view with a resolution of 682 pixels.
Equirectangular Image
Resolution
 120° FOV
Resolution
 90° FOV
Resolution
12K 360 Video
(

4K in FOV

)
12,288 x 6,144 Pixels
 4K FOV
(4096 Pixels Wide)

 3K FOV


(3,072 Pixels Wide)
4K 360 Video
(

1.3K in FOV

)

4,096 x 2,048 Pixels
1.3K FOV
(1,365 Pixels Wide)

 1K FOV


1,024 Pixels
2K 360 Video
(

640 in FOV

)

2,048 × 1,024 Pixels
(Other Low-Res Solutions)
.6K FOV
(682 Pixels Wide)
.5K FOV
(512 Pixels)
These drastic differences in image quality are the reason producers and VR fans are so concerned with creating 4K content. This leads to the question, "How on earth can I capture that much visual data?!"
Producing 4K 360 Video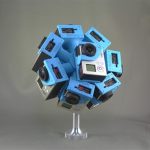 The release of the new GoPro Hero4 Black cameras put 4K video output in the hands of the everyday consumer. This capability extends to the VR and panoramic video/ photo communities, as 360Heros gear harnesses the power of these new cameras and makes it possible to produce spherical videos with resolutions as high as 12K (12,000 x 6,000 pixels). While playback options for content this large are extremely limited (see more info below), outputting 4K 360 videos is possible with all models of 360Heros gear.
After experiencing 4K, watching content filmed with 360 video gear that can only produce a 2K output or smaller is equivalent to trading in your HD monitor and going back to the '80s to watch content on a 640×320 display. The difference in resolution between 4K and 2K content is even more drastic with head mounted VR displays such as the Gear VR, as the pixel count is highly noticeable.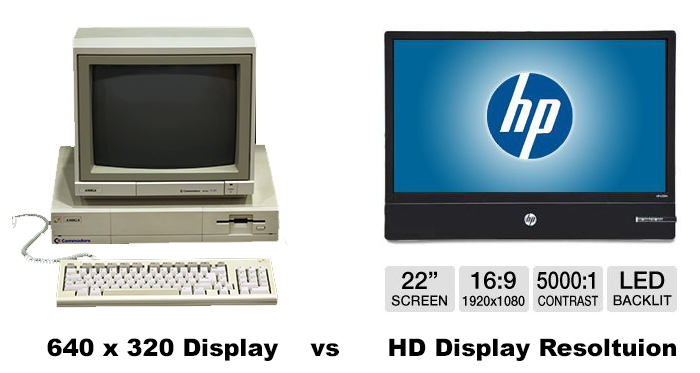 In order to capture 4K FOV panoramic videos and photos (everywhere you look is 4K), this chart specifies the GoPro camera settings and 360Heros gear needed to film them. For instance, when using the H3Pro7HD and the H3Pro10, filming at 30 frames per second will allow you to create a 12K equirectangular image that can be down-sampled for display with VR gear or a browser-based 360 video player.
Unfortunately, options for displaying 12K (4K FOV) content are limited to planetarium domes and other similar high-end solutions. This makes down-sampling a key strategy, as you will be able to view your content with the current display tech available while keeping higher resolution files for the future. 4K 360 video content (1.3K FOV) is a different story, as display and playback technology can now support this resolution.
4K 360 Video Hosting & Playback
In an effort to offer producers a viable solution for viewing their own work, 360Heros recently launched the world's first 4K 360 Video Hosting and Syndication Center. 4K videos uploaded to this server are displayed in our new 360 video player that features the option to toggle between 4K, 2K and 1K playback resolutions.

The new 360Heros 360 Video Player supports 4K playback and variable resolution.
All producers are encouraged to upload content with a 4K resolution, as our servers will optimize the content for 4K, 2K and 1K live streaming directly to the users phones. Additionally, during the upload process you have the ability to adjust the bit rate for each video size and optimization. From there subscribers have the option to download the optimized video in either MP4 or WEBM formats for viewing with the Gear VR or other head mounted displays. Aside from optimizing and downloading content for VR gear, videos can also be embedded in any webpage along with our interactive player that is compatible with both mobile and desktop browsers.
Displaying 4K Content With 2K Technology
While 4K 360 video has been part of 360Heros work flow for years, display tech is still developing to support it. The latest VR HMDs from Oculus and Samsung offer users an avenue for experiencing 4K content in an immersive environment.
For offline viewing via the Oculus Rift, users can download a free 4K player from Video Stitch. The Samsung Gear VR is another option, as users can upload content directly to the Samsung phone for playback as outlined on our VR resource page. If you are trying to to view 4K content and it it is processing slowly, down-sampling is a suggested workaround. For instance, playing 4K content with a lower bit rate or 2K  content with a higher bit rate (download samples below or via our VR page) will reduce latency without sacrificing image quality. Here are various samples for testing which resolution/ bit rate combinations suit your needs:
To download, , right click a link and then "Save video as":
Once you've downloaded a video file,  the next step is transferring the file to your Samsung Note 4 phone. With the Note 4 connected to your computer, locate the "Oculus" folder either within the phone's storage or on the phone's SD card. Within the Oculus folder will be a folder titled "360Videos". If this folder doesn't already exist, create it yourself with that exact title format otherwise the Gear VR won't recognize the file or put the video files in the proper location.
When transferring 3D 360 video files, file naming is a key step in order to achieve 3D playback within the Gear VR. For a file formatted in an over/under configuration, rename the file so that it ends with "_TB" directly before the extension name (ex. my360video_TB.mp4). For a file formatted in a side-by-side configuration, rename the file so that it ends with "_LR" directly before the extension name (ex. my360video_LR.mp4). Once the files are named properly, they can be transferred to the "360Video" folder following the same steps for transferring a 2D 360 video file explained above (download samples available on our VR page for testing these steps).
Once the video files are in that specific folder, they can be accessed within the Gear VR's virtual menu under the "360 Videos" heading. If this heading isn't visible on your menu right off the bat, it can be accessed by navigating to your "Library". Within the "360 Videos" section you should see the titles and thumbnail images of the videos you transferred to the phone. By uploading multiple files to this location, you can toggle between the different videos and compare image quality and viewing experiences to find the best formats.
With 4K 360 video becoming a popular request, our team is excited to help producers all over the world meet that demand with our new products and services. We can't wait to see more 4K content come through our hosting center and we're just as excited as you are about the continued development of playback tech! Do you have any tips for creating or displaying your own 4K 360 videos? Let us know in the comments and sign up for the 360Heros Newsletter for more updates!