International CES 2015 will mark the first stop on our 360 video tech tour sponsored by Intel's Thunderbolt™.  With the #360RV as our mobile trade show booth and headquarters, we'll be traveling the country teaching people about 360 video and showcasing the latest technology used to create it.
CES 2015
In the photo below use your mouse or arrow keys to look around the 360Heros Mobile Production center and Trade Show Booth. (Direct Link)
The 360Heros exhibit at CES is located at booth CP54 at Tech East, LVCC, Central Plaza. Booth visitors should be prepared for full immersion in 360 video tech, as we'll be giving 360 video presentations, VR content presentations and sharing the latest technology from  Thunderbolt and 360Heros. This includes playing with the Oculus Rift, demoing the Samsung Gear VR, Cardboard VR experiences and enjoying interactive panoramic video via mobile and flat screen displays.
Share #360RV to Win
As a part of our tech tour, we're giving away $500 and a FREE GoPro Hero4 Silver via an interactive social media contest. To enter, simply snap a photo of the 360RV at CES or anywhere else during our journey and share the image with the contest hashtag "#360RV". Posting a photo with this hashtag on Twitter, Instagram, Facebook or Flickr will automatically upload your post to the gallery on 360RV.us and count as your contest entry.
Technology on Display
Everyone needs to create content for VR gear, and 360Heros has provided the solution with over 4,000 models sold worldwide in 68 different countries. With GoPro cameras and our technology, you can now capture 12,000 x 6,000 pixel panoramic videos and photos from anywhere in the air, on land and under the sea.
The 360Abyss is 360Heros latest underwater 360 video gear that captures 7.5K resolution content at a depth of 1,000 meters. Having dealt with one infamous shark run-in with our first generation scuba gear, the 360Abyss is our most durable and versatile underwater camera system yet.
The H3Pro6 is 360Heros flagship 360 video and photo gear. Since setting the 2015 Guinnes Book of World Records for the first 360 video at the top of Mount Everest, the H3Pro6 has been used for everything from creating virtual real estate tours, to drone mounted photography. With no screws required, the H3Pro6 is the lightest HD 360 video gear on the planet.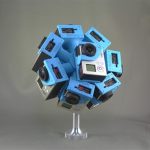 H3Pro10
The H3Pro10 is 360Heros highest resolution HD 360 video and photo gear. A favorite among virtual reality enthusiasts, this 10 camera model captures 12,000 x 6,000 pixel resolution content that offers maximum immersion in virtual reality head mounted displays.
3DH3Pro14H
The 3DH3Pro14H is the first-ever 3D 360 video and photo gear and is the premier model in our line of 3D camera systems. This 14 camera mount has cameras dedicated to the right and left eye oriented to capture a full 360 x 180 degree 3D field of view.
360Heros is proud to be embarking on this exciting journey and we're excited for our first scheduled stop at CES! We'd like to thank our sponsor Thunderbolt™ for helping to make this initiative possible and we can't wait to see everyone attending CES!
Are you going to this year's show? Let us know in the comments and feel free to sign up for trip updates via the 360Heros Newsletter.