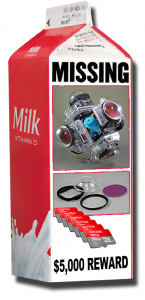 More often than not failure is a necessary pit stop on the road to success. Hitting rock bottom can sometimes be a blessing in disguise as it leaves you with nowhere to go but up. One year ago this was precisely the case for 360Heros CEO and founder Michael Kintner and his patent-pending 360-degree video gear. For Mike and his new company, rock bottom came in the form of failure during his product's first big break.
The Discovery Channel came knocking with the intent to utilize Mike's 360Heros scuba gear to capture 360-degree footage for the network's annual series Shark Week. With millions of viewers, Shark Week was the big stage Mike's start-up needed to showcase its revolutionary product and make people aware of his vision for 360-degree film.
Whether you want to call it fate or horrific luck, this opportunity sunk (along with our camera gear) in a matter of seconds off the coast of New Zealand. Thanks to one hungry shark, our gear, SD cards and the historic footage they contain are currently sitting on the ocean floor. 360Heros is offering a $5,000 reward for the return of this gear following its unintended decent into the water off New Zealand: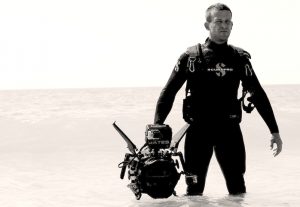 The diver you see in the video is ABC4FILMS' Andy Casagrande IV, the man who was tasked with serving as this young company's first "hero" in the 360 Video scuba field. Casagrande was the famous cinematographer with the big-time network who was going to take 360Heros and its product to new heights (or in this case, depths).
As Mike and his team discovered in a desperate email from Casagrande last April, this was not to be:
" MIKE – I UNFORTUNATELY HAVE VERY BAD NEWS – A PICTURE SAYS A THOUSAND WORDS – SEE ATTACHED – I CAN'T BELIEVE IT – BUT THE WORST POSSIBLE SCENARIO HAPPENED YESTERDAY – I ONLY JUST NOW BUILT UP THE COURAGE TO TELL YOU – BUT WHILE SHOOTING WITH THE 360 RIG- AFTER SHOOTING AWESOME TOPSIDE & BEHIND THE SCENES 360 – I TOOK THE RIG UNDERWATER & AFTER AN HOUR OF GETTING AWESOME FOOTAGE – I PUSHED THE ENVELOPE TOO FAR & AN AGGRESSIVE WHITE SHARK BIT & LITERALLY ATE THE 360 – COMPLETELY – ALL 6 CAMERAS IN ONE BITE."
The email continued on like this with further explanation and caps-locked promises to avenge the lost rig and footage. The incident was by no means Casagrande's fault; the shark attack was a freak accident. He'd risked his life and safety in an attempt to capture the historic footage and when you take a step back from the accident, you just have to be glad everyone involved walked away safely.
Despite Casagrande's inspired efforts, a hungry great white had just turned months of preparation and planning into an expensive snack. In comparison to the shark, the 360Heros team had a lot more trouble swallowing the reality of what had just happened. Not only were they not going to receive the groundbreaking footage they had sought after, they'd lost thousands of dollars in equipment. For a small start up company, this was a huge blow and a setback for the development of Mike's dream.
Looking back, it was his response to this incident that set the tone for his company's growth into a pioneer and industry leader in 360-degree film technology. His attitude and mindset anticipates and accepts failure, but quick failure. Rather than sweeping it under the rug, Mike told the story of this regrettable incident and used it to convey the message behind 360Heros and its products. We also try not to dwell on the loss of equipment and resources, but understand that if we fail, fail quickly, learn from your mistakes and move onward.
Lost gear, crashed copters, that's all part of the game. People in this industry put it all on the line everyday to capture great footage and push the limits of what's possible with this new technology. That's the foundation of 360Heros' mission in the first place; to make it possible for people to go physically and virtually where they've never gone before.  It would be naive to think this can be achieved without experiencing adversity along the way.
It was this mentality that allowed the 360Heros team to dust themselves off and prepare for whatever opportunity would come next.  Again, don't be afraid to fail, but make sure you do so quickly and learn from your experiences. Whether your plans end up sinking literally or figuratively, follow Mike's lead and continue to take the risks that make this field so exciting and worthwhile.
© 2011-2014 360Heros™ is a 360Heros Inc Company. GOPRO®, HERO® are trademarks or registered trademarks of Woodman Labs, Inc. in the United States and other countries. 360Heros, Inc. is not an affiliate of GOPRO® or Woodman Labs, Inc. 360Heros is a very proud user of GOPRO® cameras! 360 Heros creates 360° Video using GoPro Hero2 and Hero3 cameras. Check out our gear, sign up for updates, and explore the 360° videos and 360° panoramic photos created with the different 360 Plug-n-Play Video Gear.