"Get Your Motor Runnin.."
If one thing has been proven time and time again, its that people love to capture their experiences on the road. After all, who doesn't love a good selfie of themselves to show where they have been? Seeing an experience yourself is great. Unfortunately, sharing it is only as good as your memory and story-telling abilities. Additionally, travelers want that instant ability to share to social media platforms. Therefore we have come up with a great way to capture your experiences anywhere the wind may send you! Check out the 360Penguin Camera!
The 360Penguin Calls Shotgun!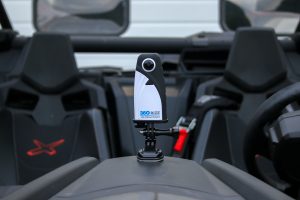 How many times have you seen something that was hard to focus in on while you are busy manning the wheel? Its only responsible to pay total attention to the road and all surrounding vehicles while operating your chosen ride. The 360Penguin can capture everything that you may miss during navigation of your journey. Moreover, this great little 360 camera catches everything you may have glanced at, but never could focus in on. For example, remember that bald eagle that flew over you? Now you have footage of its graceful flight from the dash placement if the 360Penguin as it captured your crossing paths! Want to record your company inside the vehicle? Film your own car karaoke, or any happenings as they take place inside your horseless carriage. Later re-watch that funny thing that took place on your travels!
Above All The Rest
We've told you how to shoot 360 picture and video with the 360Penguin while driving. Equally, 360Rize can point out the 360Penguins features that you'll love to use while traveling on foot! We know the commute is important to capture, but the final point of destination is the ultimate goal. A large vehicle cannot access all desired points of interest, so users need a camera that is easy to tote along with them anywhere. We are talking about something that is not big and bulky had heavy to carry.The 360Penguin is only 2.5oz, but is durable enough to handle any voyage. Add a selfie stick / mini tripod configuration and the 360photo/video opportunities are endless! As the picture shows, the 360Penguin can capture 360 selfies in a second. Furthermore, the 360 image can be re-framed within the app to the desired framed picture you'd like to share instantly! The days of smushing people into a selfie are over! Now, with one click of a button, capture your entire reality "All Around You ™"! Don't forget to share with is on the 360Penguin Users And Fans Page!