The latest from the VR team at Reel FX takes viewers on a 360-degree tour of Shinola's factory in Detroit, Michigan. Led by Luke Wilson, the tour offers an immersive perspective of the classic watch and bicycle manufacturer's facility captured with 3D 360 video camera systems from 360RIZE and Nokia.
Click below to view the tour:

Covered by Adweek, VRScout and VRFocus, this project represents the latest example of a popular brand using VR and 360 video to tell its story. The 360 video footage offers an immersive perspective of various locations throughout the Shinola factory. Viewers see engineers in their element as they create Shinola's latest products and enjoy Wilson's satirical commentary throughout the piece.
Behind the Scenes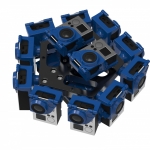 Takes from the 360 video were filmed with the 360RIZE 3DPRO and Nokia OZO. The OZO was used to film indoor sequences throughout the factory while the 3DPRO's versatility allowed the crew to capture the outdoor takes as well as the indoor bicycle shop take:
"GoPros continue to be the standard-bearer for the medium, and working with the 360RIZE 14-camera rig [3DPRO] gave us a light and nimble package to grab quality stereoscopic shots that we might not have otherwise been able to get." – Taylor Williams, Executive Producer, Reel FX
3DPRO Stereoscopic 360 Video Rig
Stereoscopic 360 video projects are often avoided by producers due to the expensive nature of most stereoscopic camera systems, the size and weight of the systems and the complexity of workflows. The 3DPRO presents itself in stark contrast to these systems as a portable, simplistic solution for filming stereoscopic 360 video.
The course of the shoot saw the 3DPRO mounted on a tripod as well as rigged to a c-stand. Its design allows for simple mounting, quick camera installation on set and access to microSD card and power ports for easy file transfer and optional external power. The configuration makes it possible for users to alternate between three different types of spherical capture: Fully stereoscopic 360 video with 14 cameras, blended monoscopic and stereoscopic footage with 12 cameras and high resolution monoscopic footage.
360 video capture and post workflows have become integral capabilities in the arsenals of production houses and media agencies. Our team at 360RIZE is proud to continue helping professionals in the media industry overcome the challenges presented by spherical content capture.
For future updates on our latest projects, collaborations and VR/360 industry news, sign up for the 360RIZE newsletter.