We recently launched two whole new VR 360 video product lines at the NAB Show in Las Vegas, NV, and received great responses from attendees and fellow exhibitors!
Pro v2 line announced
In updating our current line of virtual reality content creation solutions, we've debuted the world's first modular Plug-N-Play™ holders for creating 360-degree video.
The Pro v2 line builds on our patented system for holding multiple cameras in spherical array and features 6, 7, 10 and 24 camera solutions which are now available for pre-order.
Key features of the new holders include:
Injection molded parts for added strength, durability and modular flexibility
Hinged camera arms for easy installation and camera protection
V2 versions of the holders replace existing holders with improvements in design and ease of use
Electronic versions of each holder feature the Bullet360 control boards for syncing and simultaneously operating cameras
Anodized aluminum cores provide high strength mounting solutions and make it easy to switch between the Original V2 and the electronic Bullet360 boards, holders and the assembly
"With this new modular design we can produce more of our holders faster with more robust technology, to help our customers meet their demands for VR content," Michael Kintner, CEO and founder, said.
360 Helios makes headlines
Along with the new Pro v2 release, we also announced our new partnership with Blackmagic Design, offering our patented Plug-N-Play™ solutions with their cinematic quality Blackmagic Micro Cinema Cameras and the Blackmagic Micro Studio Camera 4Ks.
Dubbed 360 Helios, the new arrays are available for three, four, five, six and seven cameras. Our design allows users to easily install and remove cameras and feature a new version of the Bullet360 control board system already being utilized in the 360Abyss. Coupled with Blackmagic Design's Mini Converter Sync Generator for genlocking, these boards have the ability to control and sync an unlimited number of Blackmagic Micro Cinema Cameras and Blackmagic Micro Studio Camera 4Ks.
"Creating professional and cinematic 360 video content is not only a reality, but it's also an in-demand medium, and delivering on it starts with investing in the right technology," said Dan May, President, Blackmagic Design. "360Heros is answering the call for high quality 360 rigs with essential features, such as remote control and syncing, and we are thrilled that Blackmagic Design's Micro Cinema Cameras and Micro Studio Camera 4Ks are a part of that, helping to capture and deliver cinematic 360 video."
We aim to have more info about 360 Helios on our website in May with pre-orders beginning in the coming weeks.
B&H Photo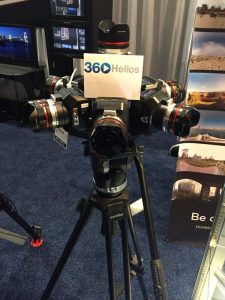 We partnered with B&H Photo, one of the top names in photo and video equipment, to launch our new product lines and educate content creators at NAB.
B&H Photo helped to unveil our 360 Helios system, designed to offer media professionals a cinematic solution for creating spherical video content.
Our Pro v2 line was also on display at B&H's camera tech booth including our new 360Orb 24-camera array for high resolution 360 video content.
Our new product line is currently available to pre-order via B&H's website.
Michael Kintner gets interviewed
Our CEO Micahel Kintner  was interviewed so many times at the show that it's hard to remember all of them, but one of our favorites is this video from B&H Photo Video in which he introduces our new products:
Mike was also tapped for an NAB Show Live segment discussing VR production as well as a spot on BeTerriffic which we will share once they become available!
An honored guest at our booth
Tom Wheeler from the Federal Communications Commission stopped by our NAB Show booth last week to learn about 360 video capture from our CEO and founder Michael Kintner. We were truly honored!
After learning about 360-degree video capture he viewed our content on an immersive dome with our booth partners The Elumenati.
Our whole team had a blast at NAB and it was a thrill to meet so many people interested in VR 360 video tech! If you saw us at NAB, comment below and let us know what you thought of the show and our new products!