Las Vegas, NV – The 360Heros team is excited to once again roll into Vegas for the annual NAB Show, "where content comes to life," showcasing our 360 video and virtual reality content solutions alongside immersive dome theaters from The Elumenati.
See us at Booth N8619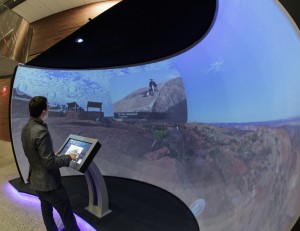 You can find us in the North Hall exhibiting at booth N8619 at the Virtual and Augmented Reality Pavilion April 18-21. You won't be able to miss us – our booth will feature our 40-foot 360RV, our mobile VR/360 tech center!  Along with the 360RV and our patented Plug-N-Play holders, we'll also be showing content created with our solutions via head mounted displays (HMD) as well as an immersive environment from our partners at The Elumenati.
The Elumenati helped pioneer the field of immersion, and continue to innovate with immersive displays and interactive software to support and expand VR experiences. In our NAB space, groups of 5-15 can experience immersive 360-degree content together in Elumenati's 4m GeoDome Panorama. Interactive content powered by their WorldViewer software will showcase our 360 media.
NAB Show Live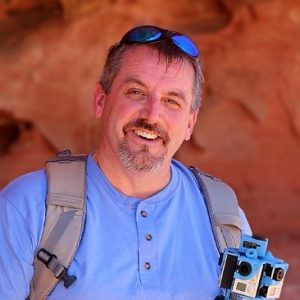 360Heros CEO and founder Michael Kintner has been tapped for a NAB Show Live segment discussing VR production.
1-2 PM, TUESDAY, APRIL 19
The Nuts & Bolts of VR Production
Produced in partnership with Broadcast Beat, "NAB Show LIVE" the daily wall to wall TV coverage produced on-site will capture the scope and influence of the 2016 NAB Show, presenting buzz-worthy moments and topics live as they happen in Las Vegas.  
New Solutions
We've been hard at work developing new and exciting 360 solutions, but we're not quite ready to announce them yet! Instead, we're saving the unveiling for NAB, so if you want to know, you'll have to come see us. You will not be disappointed! In the meantime, we will be dropping hints here in blog posts leading up to NAB, so stay tuned!
Need Tickets?
Be our guest! Use our code LV3596 for a free Exhibits Pass that will gain you access to the exhibit hall, NAB Show opening, and general and info sessions. This is also good for a $150 discount on all other pass types. This code expires APRIL 1, so take advantage of it ASAP.
Keep watching this space for more news, and we hope to see you in 'Vegas!