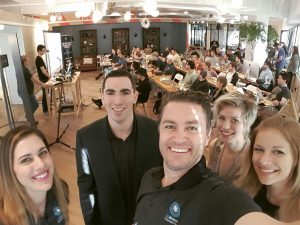 Los Angeles, CA – The 360Heros team is excited to announce the opening of our new office at the Village Workspaces in West LA.
With this new location we are now on hand, in person, to answer questions and provide support for your virtual reality and 360 video production needs!
"We're proud to be building a strong presence in LA and plan on using this office to better connect with the VR community here," said 360Heros CEO and founder Michael Kintner. "Los Angeles is full of great content creators and this office is a big step in terms of supporting our partners and friends in the community."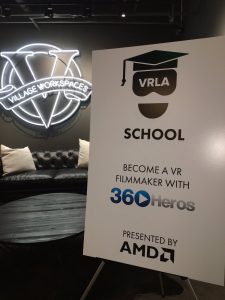 This office will cater to the LA content creator community and offer production services, on-site training, product sales, event venues and meeting facilities.
360 video content creation training will be a key focus in the new 360Heros office space. In order to meet the high demand for training, the 360Heros team aims to hold monthly training sessions focused on end-to-end cinematic virtual reality content creation. These sessions will offer attendees instruction for filming, stitching, producing and presenting 360 content for the industry's most popular platforms such as YouTube™, Facebook™, Littlstar™, Vrideo™ and leading VR HMDs.
The first series of these workshops was held in collaboration with VRLA and took place on February 27 and 28 and featured 70 attendees. These workshops focused on filming VR content, media management, stitching and an overview of current virtual reality filmmaking technology.
The ability to showcase 360 video technology is another key benefit of the new space, as the LA office location will feature the complete 360 Plug-n-Play™ product line. Display units will be available and visitors will have the ability to rent and purchase products on-site by appointment. 360Heros will also be aiming to support its growing network of local re-sellers and rental houses which includes Filmtools and AVL Gear.
The new location will also serve as home-base for the 360Heros production company which has completed projects for clients such as Disney, TIME Magazine and FOX.
We'd love to have you stop by and check out our new digs at the Village Workspaces! Stay tuned for news about the upcoming events we'll be hosting at our new space and we hope to see you there!