Los Angeles, CA – 360Heros will be returning as a VRLA sponsor for the upcoming Summer Expo on Saturday, August 29th at the Los Angeles Convention Center.
Quickly becoming one of the premier events in the world of virtual reality, VRLA brings together some of the industry's best content creators and innovative companies to celebrate the growth of VR. Attendees have the opportunity experience VR demos, check out the latest VR HMDs and see firsthand the innovations taking place in VR content creation technology.
360Heros is excited to make an announcement falling into the latter category with the introduction of our new Pro6 and 360 Pro7 Plug-n-Play™ Holders. These two new models come as the latest versions of our flagship six and seven camera models that serve as our go-to rigs for 360 video filming.
[metaslider id=5904]
These latest holders maintain the ease of use and content quality of our original models while introducing these key new upgrades:
3/8″ solid brass threaded inserts for durable mounting
New stronger 3D printed material
Stronger holder arms for securing cameras
Larger GoPro port access (HDMI and USB ports)
Unit now compatible with HDMI cabling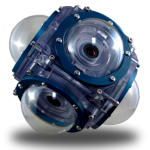 In addition to introducing these holder redesigns, we'll be exhibiting our full line of VR filmmaking gear. This includes 3D rigs for stereographic content capture and the 360Abyss, the world's most versatile underwater VR camera system. Attendees will also enjoy our latest Samsung Gear VR and Oculus Rift demos as well as a special VRLA discount offer.
VRLA also arrives following the launch of 360CamMan V2, the latest iteration of our VR media management software package. 360CamMan aids content creators in dealing with the high volume of files and takes created when filming with multi-camera rigs (ex. 6 cameras x 10 takes = 60 files). From keeping takes in the proper order and in sync to organizing files for stitching, 360CamMan is a powerful on-set tool for managing media and double checking that film teams capture the content they need. Along with these pre-stitching tools, 360CamMan also features 360 video optimization and 3D file building tools to cater content to the unique specifications of virtual reality HMDs.
The 360Heros team is excited to be involved with another VRLA expo and proud to serve as a sponsor for such an awesome organization in the VR space! Can't make it to the VRLA Expo? Feel free to catch up on the latest in VR via the 360Heros Newsletter and feel free to share your VR adventures in the comments.