Hollywood, CA – On June 5th and 6th the 360Heros team will be exhibiting the latest in VR film tech at the 2015 Cine Gear Expo.
The 360Heros Cine Gear exhibit will feature our 10 unique patent pending 360 Plug-n-Play™ holder configurations which utilize 6-14 GoPro cameras for virtual reality 360 video filmmaking. This includes both 2D and stereographic 3D models for creating Samsung Gear VR and Oculus Rift content. In addition to this full product line, we will be presenting our latest VR demos and showcasing the soon to be released 360CamMan V2 360 VR media management software.
360CamMan V2 is our new 360 VR workflow file management software which serves as a media management suite for spherical VR content. This software package takes the guesswork out of media and camera management in order to address the challenges posed by working with 6-14 cameras simultaneously. Developed over the course of the past three years, 360CamMan harnesses years of content creation experience in order to give producers the tools necessary for professional 360 VR content creation. For example, filming 10 takes with 10 individual cameras creates 100 files which need to be named and formatted properly. 360CamMan addresses this challenge and preps the data for any of the industry's various video stitching platforms.
Following the media management process, 360Heros content delivery network is another key solution that enables content creators to deliver 360 degree VR content via web based players, mobile apps and virtual reality HMDs such as the Oculus Rift and Samsung Gear VR. This service also strives to aid content creators in content syndication as it helps our network's global community of producers license their VR content.
In addition to exhibiting VR workflow solutions during the expo, 360Heros CEO Michael Kintner is featured on Cine Gear's Premiere Seminar series. Titled "Filmmaking for Virtual Reality", his presentation will take place on Friday, June 5th in Screening Room #5 from 4:00PM – 5:00PM. Kintner's presentation will focus on teaching filmmakers about VR content creation, challenges that it poses for content creators and the workflow innovations that we've been developing to support producers.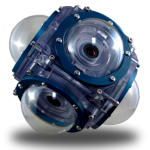 Kintner will also highlight our "All Around You™" approach to developing 360 VR tech that has powered us to creating solutions for capturing spherical VR content on land, under the sea and in the air. This includes the world's most advanced underwater VR camera solution, the 360Abyss.
360Heros CEO Michael Kintner is thrilled to be sharing this full scale VR workflow with this year's Cine Gear attendees: "For the past three years we've been striving to develop technology to empower content creators. The workflow solutions that we've developed during that time were created based on the challenges and needs that we've experienced ourselves as content creators and we're excited to share this technology with the Cine Gear community."
The 360Heros team looks forward to a great show at Paramount Studios and we'd like to thank the Cine Gear team for having us! If you'd like to keep track of our latest adventures and VR tech news, feel free to sign up for the 360Heros Newsletter and we hope to see you at one of our next shows!