Las Vegas, NV – Looking to see the latest in VR 360 video tech? Come join 360Heros at the NAB Show and New Media Expo at booth N7213. With the show taking place April 13th-16th, we'll be exhibiting VR 360 video production workflow tools, presenting VR demos, showcasing an immersive dome theater and displaying drones equipped for 360 video capture.
What You'll Find at Booth N7213
Located in the North Hall in the New Media Expo at NAB, the 360Heros booth will feature our complete repertoire of VR 360 video workflow technology. Attendees will be able to check out our line of 360 Plug-n-Play™ content capture hardware, workflow management software and plenty of other gizmos and gadgets involved in the VR production workflow.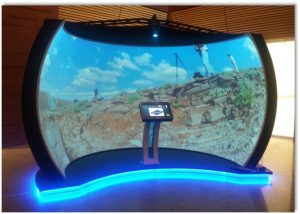 Our booth space will also feature the "360RV", our 40 foot tour bus and VR/360 Tech Center (yes, we're driving a bus onto the show floor), a 1.5 meter immersive dome theater from Elumenati for viewing content, drones equipped for filming 360 video from Aerial Technology International and a slew of cool VR tech. Throughout the show booth visitors will also enjoy new Samsung Gear VR content demos, Oculus Rift demos and mobile VR demos.
VR/360 Seminars
Attendees interested in learning more about VR/ 360 video will have the chance to catch 360Heros CEO, founder and inventor Michael Kintner during a number of speaking engagements. This includes Kintner serving on an NMX panel titled "Why Content Creators Should Care About Virtual Reality". Slated for Monday, April 13th at 10:30 a.m., Kintner will join fellow industry leaders Ted Schilowitz, Ikrima Elhassan and Cosmo Scharf in a discussion about the current importance and future of VR for content creators.
Kintner will also give two separate presentations focused on his goals to empower content creators and to share his workflow and technology. Attendees can see these presentations in the NMX Lounge at 2:00pm on Monday the 13th and 2:00pm on Tuesday the 14th.
Aside from the opportunity to check out the latest in VR tech, NMX and NAB attendees will have the chance to win free GoPros and enjoy free t-shirt giveaways at our booth. If you wish to attend the NAB Show/ New Media Expo and have yet to find a ticket, feel free to use our promo code "360HEROSVIP" for a free Exhibitor Pass. This code is also good for a $150 discount on all other pass types.
The 360Heros team would like to thank NAB and NMX for including us in this year's show and we hope to see everyone in Las Vegas!