Orlando, FL,  Virtual reality and interactive 360 video were front and center at the Comcast NBCUniversal Hackathon. As a tech partner 360Heros provided exclusive 360 video content filmed specifically for the hackathon , offered tech support throughout the competition and presented an award for the most innovative use of VR/360 technology.
[metaslider id=5542]
Participants tackled a variety of challenges focused on finding creative ways to highlight various NBCUniversal properties. Upon presenting their pitches on Sunday afternoon, teams revealed unique approaches and plans for leveraging existing mobile and web platforms. Notable solutions incorporating VR/360 video included a VR roller coaster experience built in Unity with 360Heros content, a website and mobile app featuring 360 video tours of Telemundo's studio and a Unity experience that delivered advertising within VR content.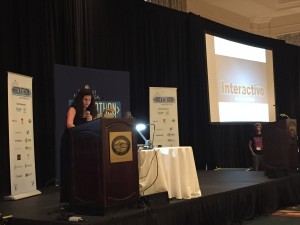 8 of the 40 participating teams utilized 360Heros hardware, software or content in their projects with two of those teams winning awards. In the Telemundo challenge for immersive entertainment, Angela Don was announced as the overall winner for her pitch proposing branded Google cardboards, interactive 360 video content exploring Telemundo's studio and a website incorporating advertising and VR content.
360Heros CEO Michael Kintner announced team Virtual Puppies as the winner of our tech partner challenge for the most innovative use of 360 video technology. Their pitch incorporated advertising into VR and AR environments: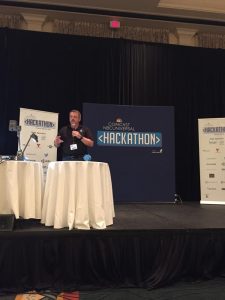 "We created a working prototype of 360 degree augmented reality commercials and advertisements in virtual space using the Oculus Rift and 360Heros footage which we implemented on a fully augmented user interface using the unity game engine."
Members of the NBCUniversal Media Labs team worked throughout the weekend with the hackers in an effort to develop creative solutions to the various challenges. While those team members were not eligible for the contest itself, their pitches encapsulated the innovation at the core of the event. This included one notable presentation from the Media Labs team that proposed the "NBCUniversal 360 Hub", a website dedicated to immersive content experiences for NBCU's various properties.
The third edition of the Comcast NBCUniversal Hackathon proved to be a great success with participants, tech partners and the NBCU team sharing in innovation. 360Heros would like to thank Comcast and NBCUniversal for inviting us as a tech partner and we look forward to participating again in the future!
For more VR/360 news and more details about upcoming events, feel free to sign up for the 360Heros Newsletter and share you thoughts in the comments!