Our friend and renowned panoramic photographer Chris du Plessis from Photos of Africa has returned from yet another adventure. As per usual, Chris has brought back with him some stunning 360 photos and pano tours from his travels in his beautiful homeland in Africa.
Included in his spoils is a large collection of Google Street View images and Google Photo Sphere tours captured with 360Heros 360 video and photo gear. Not only can these awesome panos be viewed throughout Google's image sharing infrastructures, but they're also compatible with the Samsung Gear VR and Google Cardboard VR viewers.
360° Elephant Walk in Botswana
Click and drag the image below to begin the panoramic tour in Botswana:
This panoramic image was taken at the Living With Elephants Sanctuary in Botswana. At this sanctuary retreat, visitors have the opportunity to interact with elephants in their natural habitat. Thanks to this awesome panoramic tour from Chris, we're able to see these amazing animals and their environment from a first person perspective.
Captured with the 360H6 and GoPro Hero3 cameras, these panos have resolutions of 10,000 x 5000 pixels. By setting the GoPro cameras to take interval still pictures, Chris was able to simultaneously capture fully spherical panoramic images as he walked throughout the Living With Elephants Sanctuary.

360Heros gear captures high resolution panoramic photos.
African Wildlife 360° Drone Photography
Click and drag the image below to navigate the aerial panoramic image in South Africa: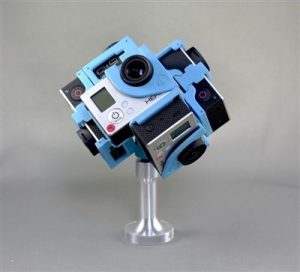 Having already embarked on a trip to capture wildlife photography toward the end of 2014, this adventure marked Chris' first experiments with aerial panoramic photos. As you can see, the experiment was a success as this image captures a magnificent view of wild African Buffalo at the Tintswalo Safari Lodge.
This high resolution panoramic image was captured with an H3Pro6 mounted below a DJI S900 drone. With the entire camera system weighing 20 ounces (including GoPro cameras), the drone handled the extra weight with ease. Mounting is also fairly simple, as the H3Pro6 features standard 3/8″ threaded mounting holes that are compatible with most standard mounting solutions.
Blyde Canyon 360 Aerial Panos
Click and drag the image below to navigate the aerial panoramic image in South Africa:
Another highlight from Chris' trip is this aerial panoramic photo taken at the 
Swandini Forever Resort
located at the base of Blyde Canyon. A national landmark in South Africa, Blyde Canyon offers scenic views of the Drakensberg peaks and the Blyde river. While Blyde Canyon is already a popular tourist destination, few visitors have experienced it from a view quite like this.
VR 360 Photos
The release of the Samsung Gear VR and Google Street View Support for Google Cardbaord are big news for panoramic photographers. With these VR HMDs, users can experience 360 photos in an interactive and immersive environment. By saving 360 photos directly to the Samsung Note4, Gear VR users can access and view their photos directly from the Gear VR menu. For Google Cardboard users, Google has added a new feature that facilitates dual screen display for panos uploaded to Google Street View.
In combination with Google's image sharing tools, 360Heros gear offers photographers a pipeline for creating and displaying immersive panoramic photos. Chris du Plessis stands as a prime example of this pipeline's potential as his photos allow users to explore exotic locations remotely with a firsthand perspective.
360Heros is proud to be working with Chris as he continues to do amazing work and shed light on the wonders of his home continent. For more news from Chris and the rest of the 360Heros team, check out the 360Heros Newsletter and feel free to drop us a line in the comments!