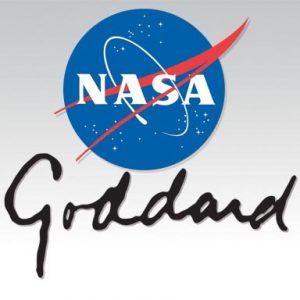 At the Charles Hayden Planetarium, Jason Fletcher and his team use a 4K projection dome to present scientific shows in an immersive environment. Through these shows, viewers can take a tour of our solar system, explore the Milky Way and have a plethora of what would otherwise be unattainable experiences.
Their latest show stays true to this theme in giving people an inside look at an intriguing and oft inaccessible organization, NASA. After receiving a NASA grant for a planetarium show focusing on NASA engineering, Jason and his team set out to capture the NASA Goddard Space Flight Center from a panoramic perspective:
Download the 360Heros app for iOS or Android to watch with Cardboard VR viewers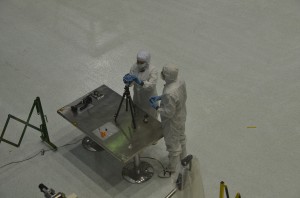 The interactive video clip you see above offers a brief tour of Goddard, which is located in Greenbelt, Maryland. This facility is used to design and test NASA spacecraft, such as the Hubble Space Telescope and the James Webb Space Telescope. Jason employed 360Heros 360 video gear to film its unique spaces in a full 360 x 180-degree field of view. For viewers who can't see it in person, this means getting a sneak peek at one of the world's most advanced spacecraft test facilities.
In particular, the video clip and accompanying media show the Goddard High Bay Clean Room, which is the world's largest clean room with 1.3 million cubic feet of space. He also visited Goddard's 120-foot centrifuge used to simulate launch rigors of up to 30 G's.  When asked about the project at Goddard and filming these facilities, Jason stated "We had a blast shooting in such a short time frame and it helped that all the engineers were marveling at the camera rig. NASA basically gave us free reign to its facilities."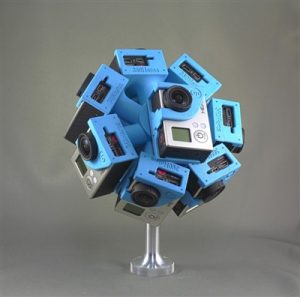 Creating Planetarium Content
With the approval to commence the project, the next step was figuring out how to best present it in a planetarium environment. This posed some unique challenges, as filming the actual video for a dome is a totally different scenario than creating augmented reality or animation. Just as a 360 video camera captures every aspect of an environment, a planetarium presents every aspect. This means the audience will experience every bump, swivel, and vibration:
"Shooting 360 video for a dome is very very tricky work. Handheld monopod sticks, backpack rigs, and such are unacceptable. You must think of the camera rig as effectively being a tiny spaceship since your audience will directly experience every movement. So you must be very smooth and slow with camera movements. We were able to achieve this by using the tracked dolly, which is a simple dolly with smooth skateboard-like wheels that slide along rail tracks. So we would start recording and then crawl beneath the rig to slowly push it along. We also had the opportunity to attach the camera rig to a large crane in the clean room and soar it through the air"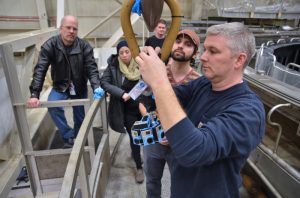 Given the size and image quality that a planetarium can support, capturing enough visual data to fill its dimensions was also something Jason had to account for:
"Because we are shooting for a planetarium dome, capturing the horizon is especially important. Since the H3pro10HD allows for 360 capture and 7 of the cameras remain vertical, this allows me to more easily hide the seams."
In creating the content, the H3Pro10's 7 cameras positioned on the horizon offered Jason enough visual data to meet a planetarium's resolution requirements. He noted that prior to the development of 360Heros' gear, using fisheye lenses and other camera solutions made it difficult to film content that fits a planetarium's dimensions:
"360Heros steps in and changes the game by allowing me to capture 360 degrees of video at 8000 x 4000px and 29.97fps. Then in post, I can warp the equirectangular projection into a 4K fisheye and still be able to adjust the FOV to whatever I like. This is a HUGE advantage. I find that increasing the FOV to 220 to be incredibly helpful for heightened immersion and also the resolution is increased to 5k domemaster. So in other words, I adjust the FOV to include more of the scene into the fisheye frame. This is especially helpful for being able to see the immediate ground around you and increases the feeling of immersion."
"From Dream to Discovery"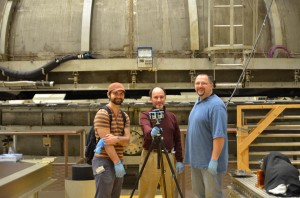 The show itself sheds light on the processes that exist behind NASA space missions. By using exciting real-life projects like NASA's James Webb Space Telescope and the New Horizons mission to Pluto, the show highlights the extreme nature of spacecraft engineering and the life cycle of a space mission – from design and construction to the rigors of testing, launch, and operations.
With NASA's Goddard Space Flight Center as their first 360 video endeavor, the Charles Hayden Planetarium team is eager to utilize this technology in future shows. This includes aspirations to film and present a documentary film in the planetarium. For the 360Heros, seeing what Jason and his team were able to accomplish in their first project is very exciting! Stay tuned for more updates and check out The Fulldome Blog for tips and firsthand accounts of Jason's work!