VR Playhouse is a team of virtual reality content makers who are sharing their passion through interactive panoramic video. In response to the VR gear boom, their team is looking to offer people something engaging and episodic to enjoy in an immersive environment.
The latest chapter in their quest for VR content produced a panoramic video from Burning Man, an event that generally has scarce media coverage. The interactive time lapse features the sights and sounds of the 2014 festival including music from Opiuo, one of their favorite DJ's.
Shedding light on a bit of Burning Man's mystery merely scratches the surface of what the VR Playhouse team is striving to do with 360 video. 360Heros reached out to VR Playhouse founders Christina Heller and Ian Forester to discuss their experiences filming at Burning Man, their current projects and future plans for 360 video:
"At this point, we're interested in creating really dynamic narrative and documentary VR content. Pushing the envelope, making things that are really exciting for people. I would say that our core mission is that we're interested in uplifting people and making people feel good. The things that excite us are something where someone is in a certain frame of mind and they put on the headset, experience the video, and they leave in a better mood." – Christina Heller
Burning Man
In order to deliver Burning Man's good vibes to their VR audience, the husband and wife team had to endure technical difficulties and the desert's unpredictability to capture the footage:
"I'm actually stitching a whiteout video today. When you're out there, no matter where you are all of the sudden you can just be enveloped in a total whiteout where you can't see your hand in front of your face because the dust is raging so much." – Ian Forester
In addition to the harsh conditions, the team was also at the mercy of some GoPro camera formatting issues while filming with the H3Pro6. This created missing pixels in their final video output- an issue Christina described in their blog as "little black triangles of death" appearing throughout the content.  Their post offers advice in order to help other videographers avoid the same problem and serves as documentation of their early experiments with 360 video gear.
In order to capture their panoramic content, VR Playhouse is using a combination of the H3Pro10HD and the H3Pro6 models of 360Heros holders. According to their team, the ease of use associated with the gear has been a key advantage: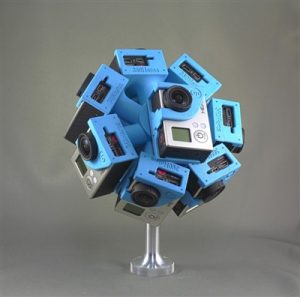 "The biggest compliment is that I haven't really noticed it. It just flows pretty seamlessly. It's very lightweight. The 10 camera rig [H3Pro10] is sort of our go-to- we really like it a lot. We tried other things and we like 360Heros. The cameras are pretty accessible. The design is good, we really like the 10 and we really like the 6 [H3Pro6] ….I think everything you guys are doing is great. I like that you're becoming a little bit of a one-stop shop in this industry." -Christina
Current Work
After dusting themselves off from Burning Man, the VR Playhouse team is onto their next adventure. With backgrounds in theater and journalism respectively, Ian and Christina are looking to explore a deeper layer of storytelling in their latest 360 video project.
Titled "First Person", this VR series will offer viewers an inside look at the narrator's daily interactions. While viewing the content through a VR headset, the viewer will feel as if they are the one having this character's conversations and experiencing his ups and downs. Christina noted how realistic these interactions are for the viewer "Part of what makes it work so well when you're in the headset is they're [the interactions] all really natural. It really feels like you're just having a conversation with somebody."
Up to this point 360 video's potential for filming events and allowing people to explore environments has been realized. What hasn't been thoroughly explored is the medium's ability to deliver scripted experiences- something "First Person" will certainly change.
Future Projects
As for future plans, Christina and Ian will soon be embarking on a trip to Nicaragua to film a 360° documentary. The documentary will focus on capturing everyday life in Nicaragua and telling the story of a newly-formed school. With 360 video as a medium, this documentary will engage viewers in a way traditional film isn't able to deliver:
"I'm imagining a lot of really cute things, a lot of really unique and interesting experiences. On top of that, I really just want to play with the medium and see what we can do that's unique to a 360° immersive documentary." – Christina
With 360 video now established as a medium, VR Playhouse is taking its storytelling potential beyond the initial intrigue that it's garnered. Whether they're documenting real events or delivering their audience episodic content, Ian and Christina are pushing the limits of what this technology can produce. 360Heros is excited to be working with this creative duo and we look forward to tuning into their next panoramic adventure!
© 2011-2014 360Heros™ is a 360Heros Inc Company. GOPRO®, HERO® are trademarks or registered trademarks of Woodman Labs, Inc. in the United States and other countries. 360Heros, Inc. is not an affiliate of GOPRO® or Woodman Labs, Inc. 360Heros is a very proud user of GOPRO® cameras! 360 Heros creates 360° Video using GoPro Hero2 and Hero3 cameras. Check out our gear, sign up for updates, and explore the 360° videos and 360° panoramic photos created with the different 360 Plug-n-Play Video Gear.