Cologne, Germany – 360Heros teamed up with our friend Chris du Plessis to attend photokina, the world's premier imaging fair. At photokina Chris discussed his work as a wildlife photographer, Google Trusted photographer and 360° video professional.
360Heros single shot panoramic image taken by Chris du Plessis at photokina.
While enjoying his time with the industry's best, Chris shared his experiences working with 360Heros technology and introduced our gear to enthusiastic attendees.  "Walking with it was amazing. I got a lot of attention. When I would walk up to someone wanting to ask them a question I couldn't because they were too curious about the rig and wanted to ask me questions!"
His reception included groups of people requesting to take pictures of his 360Heros 360 video and 360 photo gear and asking numerous questions about the technology. "As I was walking people were taking pictures of me with the gear. They were so amazed, people were asking 'Can I take a photo of this rig please?' That's how it's been since I got the thing and it's still going on strong." According to Chris, this general reaction stems from the curiosity that surrounds 360° video and the relatively low awareness that still exists for the technology:
"People are a bit confused and unaware of 360 video. They see it and they're not sure what to make of it and they become very intrigued. Almost every person I ran into stopped me and asked me questions. How many cameras are on there [360Heros configuration]? Five? Six? – They were very excited and interested."

Interest in Chris and our technology peaked when Google's Evan Rapoport invited him to discuss his work as a Google Business View photographer at the Google booth. Chris explained to the audience the way in which he utilizes 360Heros gear as a tool to create amazing Shoto Sphere images, his own Google Street View and regular 360 photos:
"When I showed the people at the Google booth what I've been doing, Evan asked me if I would do a short talk at the booth and discuss the technology I've been using, how I'm using it, etc. I showed them my 360Heros gear and explained how easy it makes creating panoramas for Street View. You just push one button – it's hassle-free. They were really amazed by how easy it is to use this thing to create quality images."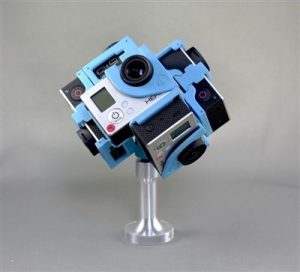 Chris explained to booth attendees the way in which 360Heros technology can be used for Street View and offered his feedback as a professional in the program. For his current work, Chris is utilizing the H3Pro6, a unit that mounts six GoPro cameras in a manner that facilitates the capture of 360° photos and videos. Whether he's creating panoramic tours of travel destinations or filming wildlife in 360, Chris is able to capture every angle of his subject matter.
In terms of panoramic videos, the content that Chris has been creating allows users to interact and fully explore an environment. Chris' 360 video content is fully compatible with the Oculus Rift and Samsung Gear VR. This technology allows people to view Chris' work and the rest of the content hosted on video.360heros.com in an immersive, interactive format.
The wide range of applications and subject matter associated with Chris' work have impressed audiences across a variety of industries. photokina served as the latest example, with crowds of attendees and industry professionals alike being drawn to his work and tech-savvy approach. In fact, interest was so high in Chris' work in Cologne that he has advanced his plans to travel back to South Africa to shoot more panoramic content. Having formerly planned an expedition in January, Chris will embark on a month-long trip in October during which he plans to shoot a variety of panoramic photos and videos.
This trip will focus on filming more wildlife content, shooting panoramic images for Street View and shooting his first underwater 360° video footage. As a 360Hero in the field (sponsored 360Heros videographer), Chris will be testing our new prototype scuba gear and capturing freshwater aquatic footage. While it might be a little short notice for Chris, we're thrilled that he will be riding the wave from photokina directly into his first 360° scuba experience! Check out more of his work below and stay tuned for updates from his latest adventures!
The Panoramic Adventures of Chris du Plessis
360 Image Film (Google Trusted Photographer)
© 2011-2014 360Heros™ is a 360Heros Inc Company. GOPRO®, HERO® are trademarks or registered trademarks of Woodman Labs, Inc. in the United States and other countries. 360Heros, Inc. is not an affiliate of GOPRO® or Woodman Labs, Inc. 360Heros is a very proud user of GOPRO® cameras! 360 Heros creates 360° Video using GoPro Hero2 and Hero3 cameras. Check out our gear, sign up for updates, and explore the 360° videos and 360° panoramic photos created with the different 360 Plug-n-Play Video Gear.