In an ever-changing technological landscape it is critical for photographers and videographers to adapt and explore new tools. When it comes to employing visual mediums, Chris Du Plessis stands as one of the world's most versatile professionals.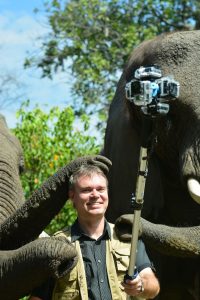 Widely known as a wildlife photographer with his organization Photos of Africa, Chris also creates Google virtual tours for travel destinations and contributes extensively to the Google Street View project. The most recent example of his proactive approach has seen him add 360-degree video to his arsenal of tools.
Photos of Africa
The most recognizable elements of Chris' work are the images and videos of wildlife he's taken in his native South Africa. In order to offer a more immersive viewing experience, he is now employing 360Heros technology to share his vibrant homeland and its amazing wildlife.
When he began transitioning into 360 video, Chris experimented with a variety of products before selecting 360Heros as his preferred solution "Before I started [shooting panoramic video], I looked at multiple 360 video solutions and I found the service and quality of 360Heros to be the best on the market". Having found the proper tool, he started using panoramic video to share his adventures.
In talking with Chris, he discussed his goals with Photos of Africa and the role 360 video plays in accomplishing them:
"My goal with Photos of Africa is to get the same feeling I have on wildlife walks out to the public, on social media, etc. You don't want to spend too much time trying to plan photos and set up cameras. You just want to be able to push a button and enjoy the moment. With 360Heros gear it's quick, easy and you get to experience these nice feelings while capturing the entire experience for your audience."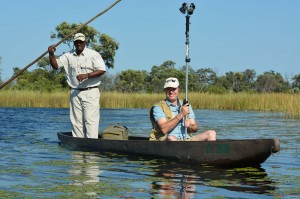 Chris went on to express the idea that panoramic video gives people a great deal of autonomy, as they can jump from one location or experience to the next quickly and freely:
"People look for humanity and freedom. Once you find it, you want that feeling again and it's a relief when you revisit it. This technology allows people to revisit these moments and to have that feeling again."
Through Photos of Africa, Chris is able to deliver his experiences with the continent's diverse environments and wildlife to the general public. With plans to continue shooting both still images and immersive 360 video, this organization is just getting started in showcasing life in the beautiful place it's named after.
Google Street View
Aside from his work as a wildlife photographer, Chris is working to expand the Google Street View project via his other organization 360 Image Film. Through this company, Chris uses his training and certification as a Google Trusted Photographer in Germany to create tours for businesses and locations that have yet to be virtually mapped:
"Currently, there's no [Google] Street View available in some parts of Africa as it is in America and many Asian and European countries. So far I've filmed 60 places in Southern Africa and plan to do many more."
He went on to discuss the ways in which 360Heros tech facilitates his progress in expanding Google Street View.  When asked about the specific advantages of working with our gear, Chris referenced its simplicity and the power of capturing a panoramic field of view:
"Considering that there's no reduction in quality, 360Heros is a time saver. It's easy to use 360Heros gear and the GoPros because you just walk, press a button and take the panoramas. Everything is captured which you can then virtually experience. You can see everywhere – in the alleys, the signs, pathways- it's just amazing to see everything in detail. With 360Heros you really can see all around you. I think that's why people love it."
The aforementioned ease of use and image quality has allowed Chris to cover a lot of ground in terms of expanding the project and virtually showcasing locations. Tourist destinations such as resorts, lodges, safaris and other amenities are locations he seeks to bring to the public via his work.

View Larger Map For more street view examples visit: www.360imagefilm.com
The location you see in the example above is an aerial shot Chris captured with an octocopter above the Plettenberg Forever Resort. Chris has also created similar Google Street View tours for andBeyond Safari Lodges and a number of other tourist destinations across Southern Africa. These interactive panoramas facilitate the virtual exploration of travel locations, serving as an invaluable tool for potential visitors and businesses alike.
Future Projects
Having just returned from a four-month safari in Africa, Chris is busy in his office in Germany stitching and uploading panoramic content that I was told will soon be available online and via mobile devices. This editing will temporarily be put on hold as he prepares for his latest adventure; a paragliding trip to capture panoramic aerial video near the Alps. This ambitious outing merely scratches the surface of what Chris plans to document via 360 video:
"I want to do some extreme stuff with your gear like climbing Mt. Kilimanjaro in Tanzania. I want to walk in the mountains with the gorillas and film 360 video. I've already walked with elephants so it will be interesting to put that [footage] together. It's just amazing because you can do anything."
Chris' work and future ambitions exemplify the versatile nature of 360 video. What was once viewed as a specialized medium is now being utilized for a countless number of applications. Whether he is on the streets of Germany, on safari in Africa or flying over another landmark, Chris serves as an ambassador helping to put panoramic video and 360Heros on the map (literally). As for Chris' future endeavors, we probably speak for everyone in hoping that he continues experimenting with this medium and sharing his panoramic perspective of the world.
© 2011-2014 360Heros™ is a 360Heros Inc Company. GOPRO®, HERO® are trademarks or registered trademarks of Woodman Labs, Inc. in the United States and other countries. 360Heros, Inc. is not an affiliate of GOPRO® or Woodman Labs, Inc. 360Heros is a very proud user of GOPRO® cameras! 360 Heros creates 360° Video using GoPro Hero2 and Hero3 cameras. Check out our gear, sign up for updates, and explore the 360° videos and 360° panoramic photos created with the different 360 Plug-n-Play Video Gear.