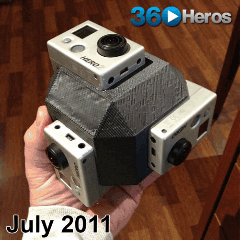 May of 2014 signified 360Heros Plug-n-Play™ video gear's first full year on the market. When you look at our online store today you see colorful, futuristic looking holders that are compatible with GoPro's latest camera models.
These holders are made from aircraft grade nylon and have been described with terms such as "rugged", "thoughtful" and "versatile". We're proud to have our gear described in such a way and we're thrilled that we've made strides to introduce 360 video to the public.
While 360Heros is excited about our current progress and the future of this field, we didn't get to this point without working hard to consistently innovate and improve. This gradual development can be seen in the evolution of our 360 video gear. Our 360 Plug-n-Play Holders™ weren't always the modern bright blue cubes you see today. These holders were designed from scratch and saw multiple revisions over the course of their three-year development.
The GIF you see above depicts this journey as it displays a visual timeline of the changes that took place from our very first model to our current line of products. The early models you see in the GIF represent handmade prototypes designed and created by our CEO Michael Kintner.
What began as a hobby and some late-night tinkering has blossomed into a new medium of expression and storytelling. In just a few short years our holders have traveled from an inventor's garage to the top of the world and the bottom of the ocean. As 360Heros continues to morph and adapt along with our products, we are excited for the future and the opportunity to continue advancing 360 video technology!